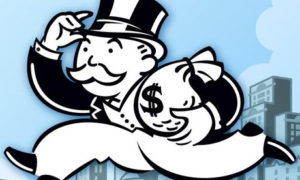 In January of 2017 the legislature of the Commonwealth of Massachusetts, USA, Earth, known as "The Great and General Court," implying some connection to legality and justice, collectively determined that their theft of monies from their subjects-taxpayers would have only an indiscernible impact on the rest of the Solar System, let alone the Universe. And so far, they appear to have calculated safely. Not even the orbit of the Moon has been perturbed.
Not ones to be caught without full justification, albeit besotted with partisanship, the august leaders of the aforementioned and veto-proof majority of both chambers of that vital legislative coven, all sworn to uphold the laws and constitution of the Commonwealth as well as the laws and Constitution of the United States of America, searched the Galaxy for comparative compensations that rendered said august leaders of the majority party (of which many members were likewise "leaders") second-rate or, God forbid, third-rate, by comparison and therefore instantly deserving of sufficient added compensation as to restore primacy to the Great and General Court of Massachusetts' leadership – every last friggin' one of them.
Holding the balance of reason and probity was the tiny band of Republicans (also blessed with numerous "leaders") numbering but 6 of 40 in the Senate – the "upper" chamber – and 34 of 160 in the House – the "lower" chamber. Observers and constituents have argued since which fits the latter designation, in fact, and which the former.
They seem, to all not so newly compensated, to be vying for the latter. There will surely be a study.
In 2014 the "Special Advisory Commission Regarding the Compensation of Public Officials" delivered itself of a remarkable document that purported to win over any doubters of the premise that the hard-working, frequent-vacationing leaders of the Democrat Party hegemony in Massachusetts' state government, most particularly in the legislative offices, were, sadly, underpaid and just scraping by in their selfless service to the citizens of this great state. Of course, its effects, if converted into passable legislation, would be bipartisan, so there certainly was no self-service that might happen… none.
The study now extant became a Christmas present burning holes in the back pockets of Stanley Rosenberg, Robert DeLeo, nearly every member of the Great and General Court, every judge, magistrate, court officer and constitutional officer to boot. It simply needed the right Christmas to arrive for a quick, unobstructed delivery into their suffering hands. The anticipation must have been exquisite.
Finally, with ostensibly Republican governor Charlie Baker fully compromised, January 2017 saw delivery of the long-awaited financial orgasm. "Our royal thanks for the sacrifice and diligence of the Special Commission."
What did the committee do during their months of service? And, it is worth asking, for whom? After all, the report IS neatly typed, carefully printed and edited for accuracy and timeliness, not to overlook well-peppered with charts and graphs, and plenty of margin space for easy gleaning. All of its authors are not only eminent, but well-regarded – a comfort, that.
There are fundamental premises that the report was created to make relevant, even justificatory of, the "need" to take more money from the Commonwealth's tax-paying citizens and deliver it into the pockets of their "representatives" and many others. Somehow, we should now be convinced-of and, perhaps, relieved to grasp, the value of paying all these people more than most of said tax-payers, themselves, make.
Premise # 1: Higher, appropriately higher, compensation is needed to attract and retain the best talent – and presumed competency – for these crucial jobs.
Premise # 2: The relative pay of politicians in similar offices in the other 50 states is of some (arcane) value in our deciding how much to pay OUR politicians.
Premise # 3: The total compensation packages of huge private for-profit and not-for-profit CEO's and other corporate officers form logical comparisons to what are held to be equivalent-responsibility public-sector positions.
The first premise can be challenged by the greater than 90% incumbency re-election rate in the House and Senate. Clearly the jobs are attractive enough to keep nearly every office holder vying to retain his or her seat – even during the dark days of insufficient compensation. Likewise, Secretary of State, Treasurer, Auditor, Attorney General and other executive offices are both sought after and clung-to like pregnancy-swollen breasts, despite the poor comparisons with other states' office holders. Pregnancy? How did that happen?
And, not always poor. New Jersey, for example, has a similar GDP to that of Massachusetts, based on kinds of economic activity, port value and as GDP per capita. Mass., $485 billion; N. J., $570 billion, a difference of 15%. The cost of state government, however, IS VIRTUALLY IDENTICAL: $55.1 billion for Mass., $56 billion for N. J. New Jersey is almost 10% more efficient than Massachusetts in this regard. Political leaders must be better compensated there, no?
Well, no. New Jersey's senators and reps are paid 18% LESS than the toiling servants of Massachusetts. Putting lip-gloss on it, the N. J. senate president and house speaker are paid 31% (!) LESS than our vital comparatives… for doing a better economic job. Taxes are high in both states, Democrats dominate in both states, taxpayers are restive/complacent in both states. We certainly can't justify 40% pay increases looking at those bozos! It is good that we didn't compare ourselves to Florida!
Still, there must be some cobbled-together set of statistics that will obscure our purposes more completely while appearing to justify this embezzlement. Ummm… aha! Let's make a chart that compares and ranks the old (high) pay scale to ALL other states: premise # 2.
The assembled charts are wonderful, guaranteed to make a reader's eyes glaze over. No one is going to pore over a list of fifty rates of pay for governors, lieutenant governors, attorneys general or anyone else. Presented with the two pages of six columns of small print, the concerned reader will find the numbers that pertain to Massachusetts officers and relax in the knowledge that this report includes extensive, thorough study.
Except for the nationwide self-aggrandizement of politicians, the fact that Mass. paid its governor MORE than 39 other states did and LESS than only 10 others is, in one important sense, meaningless. In another sense, the generous taxpayers of Massachusetts ought to have taken solace in the realization that we have well-compensated our governor in comparison to almost all other states. Doesn't matter.
The big deal is Table B-7: nice big print, comparing the Senate President's and House Speaker's (equal) salaries with those of other full-time legislatures (11, all told), ranking 5th and 6th respectively. In 2014, this meant only $95 grand per year plus numerous benefits and stipends to ease the pain. Oh, the horror.
Legislators in Massachusetts receive raises every two years based on the calculated "Median" income in the state. Sounds fair. It's a plan that was supposed to avoid the contentious process of legislators voting for their own raises! All of you who hate doing the same thing where you work, can appreciate the awkwardness.
Well, despite many legislators clinging to their sinecures for decades – and becoming wealthy somehow, and retiring with pleasant pensions and health-care benefits, the automatic (median income has and always will rise in this system) raises were not making legislators, especially their "leaders" (20 of them) rich quickly enough. You can see the problem: How on Earth can we slip a gigantic compensation package through the legislature and signed by a governor? Hmmmm…
Turns out, there's nothing better than a mind-numbing report produced by a Commission – a commission: brilliant! – all of whose members are both eminent and highly regarded. That's the ticket.
Still, facts on the ground comparing pay scales with other states really don't quite carry the water for this hijack. What must be included is something ethereal, heavenly, mystical. Let's compare our collective irresponsibilities and partisan claptrap with real leaders: top-paid CEO's, COO's, corporate treasurers and the like. Find a highly-paid corporate lawyer to help the Attorney General. This will make our grandees appear UNDER-paid even with this new bloat, and enhance our leadership status among the low-information voters.
Premise # 3: What top private-sector executives make is relevant to what political leaders make, and their responsibilities are roughly comparable. A fabulous, fantastic concept that can be made true in the hands of the right eminent and highly regarded Commissioners. Go for it.
In reality, where taxpayers actually live, there is no comparison – none. Private-sector (whether for-profit or not-for-profit, "business") leaders operate in a different world: one where performance is measured intricately and specifically against economic results and targets, month-by-month, quarter-by-quarter and beyond. Highly paid people in business can be fired based on results. They answer to boards of directors or trustees. They are carefully regulated by governments, and taxed, fined and fee'd to a fare-thee-well and still required to show performance and results that meet goals.
Many of these goals involve COST-CUTTING(!), a miraculous process whereby profits increase and excess payroll is jettisoned. This leaves, over fairly short times, the BEST employees employed, and only as many of those as needed to achieve results for the share-holders. These are foreign concepts in state government, specifically in Massachusetts state government, where political "leaders" see their goals as met by INCREASING jobs, and not for the best of employees, but for the most loyal, politically.
Goals for legislators and officers in government are not lower costs, not better returns on investments or returns on assets; the goal is re-election and job-security – not to mention as much pay, compensation, expense reimbursement, pension and perks as possible while appearing heroic!
This is not to say that political leaders and functionaries don't have POWER. That is the one quality they share with business leaders. What they don't have is actual responsibility for performance or profit – things that get business people fired or bonused. They never work for bonuses based on meeting economic targets. Things can go to Hell in handbaskets in state economies and politicos are victims of world-wide conditions, same as the rest of us. But, not responsible. Nor is their pay cut because stock prices are down for bad performance or for poor vision for the immediate and long-term future.
Finally, NO OTHER STATE is trying to attract these captains of government to come run THEIR states because of a record of market-beating success. These people are LUCKY, in the main, to have the cushy jobs they have. When things go south they can raise taxes, by POLICE POWER. In business, leaders have to attract new revenue because they deliver what customers or donors actually WANT and will voluntarily pay for. And they want to compare themselves to corporate success-masters?
This isn't a report on compensation delivered by eminent and highly regarded people, IT IS A FRAUD from the very start. This is Kabuki theater, designed to defraud the taxpayers of Massachusetts. With a series of impressive and MEANINGLESS charts and 50,000 words of palaver, the House and Senate justified grand theft.
And our God-damned governor let it go through! Oh, he vetoed it – that was his Kabuki role, but he didn't fight it, he didn't campaign against it, he didn't use any of his power to stop this legal CRIME. The day after his "veto" was overridden, he was at a "time" for a Democrat in Fall River with Stan Rosenberg and Bob DeLeo. This isn't the fox in charge of the hen-house, it's the ROOSTER.
There was one big reform. To save senators and reps from cheating on their per-diems they now receive bloated flat-rates to reward these vital characters for showing up for "work." Oh, thank goodness! There were maps and charts to justify them.
The ONLY reform that would justify this grandiose sleight-of-hand, is TERM LIMITS for all of these people, and the right to remove judges by plebescite. Did I mention that the AUTOMATIC biennial raises are still in effect? NO ONE who voted for this scam deserves another vote from any of us.