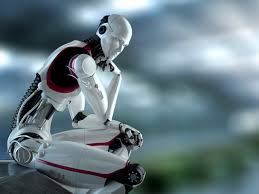 We must, as thinking, contemplative beings at least somewhat concerned about the future, consider the implications of robotics and so-called artificial intelligence: machines that learn. It's all a matter of large-enough databases and rapid-enough retrieval. So what? you might ask.
Civilization came to be built as it is through an economic reality that forces individual humans to strive for improvement – both personal and financial. That is, at one level or another, life has been tough for most of us, causing each to become stronger in order to be able to adjust one's surroundings to greater comfort or safety… or both.
In the past century or so we have managed to elevate enough of ourselves to support elaborate industries designed only to entertain us due to growing levels of "leisure" time. That is, modern life for a large fraction of humankind (but not all, certainly) permits complete creation of safe and comfortable living conditions (standards) with about 40 hours of "labor" of very specialized kinds per week, or about 25% of available time.
In fact not even 25% is needed, as many forms of labor provide for weeks of non-work time each year in addition to "holidays," storm-days, "personal" days, sick days and, increasingly, family and maternity "leave" periods. Politicians and other panderers – advocates and socialists of various stripes – are constant in their demands for more time off for ostensibly "civilized" and crucial purposes. Employers are, after all, mere thieves of workers time and comfort and must not be allowed to earn a profit from their labor, if such dis-allowance is at all possible.
In any case and by whatever fraction of productive employees' time, businesses must find ways to produce the millions of products and services that they and others need or want in order to create and maintain the kind of safe, comfortable living conditions each desires. And those products must be profitable enough to justify all the investment, risk, work and education that goes in to producing them, delivering them and warranting their quality and usefulness, AND to permit sufficient taxation of both profits and of labor itself, to pay for all of the "public" works and subsidies that politicians think we need – including those that we truly do.
Together we, many of us, understand the multiple contracts and assumptions and personal costs that are enabling lives we like; and we understand, largely, the changes we must each choose to make to have "better" lives and proportions of leisure time. Robots are changing the "contracts" we have made between individuals, companies, governments and ourselves – and we are largely unprepared for the future that they are creating.
Right now the contracts of the economy depend upon parties who have striven to be part of the economy and who have striven to be "good" and "useful" people – most of us, anyway. What each has attained-to is the basis on which each of us judges the other as a qualified member of our society and culture, evaluates him or her as to qualities of charity, kindness and "fairness," or lacks thereof, and on what his or her productive value is determined.
It is very important to us whether the person we are considering is one who "pulls his or her weight" or, barring genuine disability, "coasts on the work of others." Is he or she "pulling the wagon" or just "riding?" Like it or not, every one of us needs to grasp these values for the current system to "work." We understand and agree to abide by the hundreds and thousands of "contracts" that cause society, products, services, profit and pay to function with a net gain of living standards over time for the largest number of our fellow society members.
Are you with me so far?
Here and there, and in growing numbers, people who are employers, which is to say, producers in our economy ("job-creation" being simply a result of profitable productivity), are squeezed by governments – including their legal systems – through taxation and liabilities of increasing types. Customers demand redress and compensation from producers' profits if anything goes wrong with a product, its delivery or its use, almost regardless of "fault." Governments need more and more revenue to perform vital deeds and to buy votes from constituents.
To compensate for growing assaults on profits producers must steadily become more productive without raising costs… and this means reducing labor costs – employee costs. Given myriad labor laws protecting workers, insuring them, insuring their families and paying them at certain rates, producers are turning toward automating as many procedures as possible: ie. robots.
Robots don't have to look like manufactured humanoids. They can be as unassuming as ATM machines and self-check-out lanes at Home Depot and a thousand other retailers. "Robots" can dispense prescriptions, take orders at fast-food restaurants and, soon, custom-tailor suits with nary a sales-clerk or store-manager needed. What do YOU do? What function are you compensated for? Maybe you build houses.
Robots make it possible to factory-manufacture modular homes that come with wiring, piping and alarm and computer circuits already in place. They're delivered by truck and bolted together on site. Altogether there can be barely 20% as much labor needed to produce a single-family home. For modular multi-family buildings, there is even less per housing unit. What will all the tradesmen be doing?
Or, the counter workers, potato-fryers, and on, and on, and on… what will they be doing? Retailing is disappearing before our eyes, along with its jobs and buildings, janitors and re-decorators, security guards and on, and on, and on. There are very, very few jobs that are not threatened, except, temporarily, robot-maker.
Will this happen overnight? Not yet, but overnight began about 30 years ago and is accelerating as rapidly today, tomorrow and next week, as computing power and miniaturization permit. So what are the political and human consequences of the robotic devouring of what we now call "jobs?"
First, people who now control productive enterprises, from small to large, will be controlling larger and larger fractions of production generally, whether of precision-engineered parts or of sandwiches, and with fewer and fewer employees. This will concentrate productive surplus – which is to say: profits – and wealth as well, in those same hands or corporations. How, under the U. S. Constitution, will this wealth be "shared" among the soon-to-be jobless citizens? ("Soon" being in 20 years?)
Shall we raise taxes much, much higher? Should laws be passed that require producers to share remaining jobs among 4, 5 or 6 individuals (however inefficient that will be)? What happens to the essential right of private property? Will all hiring and profits become the purview of the least-efficient institutions on the planet: federal bureaucracies?
And how will individuals prove their worth? Not only to their friends, wives and children… but to themselves? If lots of humans don't need to be very smart to survive, will more than the owners of production and the builders and programmers of robots, bother to become so? What happens to politics, then?
The stratification we have acquiesced to so far – stratification in which those elected deem themselves superior and entitled to office, ideas they have "sold" to relatively ignorant constituents – will become stricter and more calcified, virtually unassailable by the welfare-supported masses of citizens. Those will be they who never vote against wealth-sharing and at ever greater sharing rates. How will democracy or a republic or religiosity survive?
Just as large fractions of us, now, can't find our ways without "GPS," or feed ourselves without welfare, what will we become when there is no need to strive… and dependence upon robots approaches totality? What will civilization be? Constant leisure? A complete absence of sacrifice? SHALL WE ALL BECOME ENTERTAINERS? Shouldn't we be thinking about these things?
Do you think of them? Fear them?