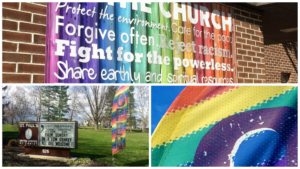 My neighbor and I took a break from cleaning up after some big winds and began discussing, somehow, the removal of statues "celebrating" people who "fought for slavery," a process he seemed to be in favor of. My neighbor is a truly fine person, doing an excellent job of raising his children, including the wisdom of involving them with a church, actually the same building I grew up in, but which is caught up in a new popularization of biblical lessons that is inherently "liberal" in the modern American sense.
In any case, the message from today's pulpit supports the end of slavery, and supports being nice to everyone, which last doesn't jibe with my understanding of the Bible, but feels good and seems harmless. It is apparently deeply sympathetic to the current effort to remove statues of Confederate war heroes, for which there is a certain, odd logic.
Unfortunately, in Prudence' view, the current agitation about these historic relics has less to do about "slavery" and more to do with current anti-Americanism, if not Communism, or "anti-culturalism" in the worst ways. This is an unfortunate usurpation of God's lawful right to guide human beings.
The failure of American politics is outpictured in the wave of "offense" that stems from everything and anything the founders of the American engine believed in, whether good or bad. The tiniest drop of currently-defined "badness" taints the entire kettle, all the way back to Columbus and probably further. We can never lose sight of the fact that when Ooog fashioned the first flint scraping tool he smelled pretty bad and ate meat and cared not a whit about global warming.
A church… not "a" church, I would say, but THE church in Alexandria where George Washington worshipped, and where Robert E. Lee did as well, has "decided" to remove the plaques referencing both men's attendance since they are mounted next to the altar and very visible. Eventually they'll find a "suitably prominent" alternate location for them. This is being done in reaction… reaction, to the current wave of rabid offense-taking. Anything remotely connected to slavery – and some connections are pretty tenuous – apparently deserves a new round of hatred by Millennials, primarily, who have learned politicians and other public personages are so obsequious and weak-kneed as to trip over themselves while attempting to disapprove of the latest discovery of "offense" even more than the muddle-headed mobs have claimed to do.
This isn't really "liberalism" although liberals appear to support the movement for a couple of reasons: 1) It fits with their overall desire to manipulate society toward a "new" world that may be defined by social theories and not by history; and, 2) Conservatives and Constitutionalists don't like it.
What is the end-game for anti-cultural, anti-history agitation? Of equal interest: who finances "antifa" and other anti-American groups? Well, George Soros, for many. Soros, a former Jew who helped the Nazis and denied his Jewishness to save himself, provides copious financial support to a dozen "anti-facist" "protest" or "resistance" groups. Indeed, with his money, such groups recruit AND PAY discontented and mostly unemployed young men and women to protest for $15 an hour. What foul rot.
We cannot stifle this man or his anti-Americanism, for our own Constitution prevents government intervention. Or, perhaps it doesn't. Perhaps Soros, that warm and loving backer of so many liberal and Democrat causes and candidates, should be seen as an enemy combatant, fomenting revolution, terrorism and riots. We have ways to engineer change in the United States, and his are not part of them. Unfortunately the embedded fascists… er, liberals, at all levels of federal bureaucracy have remained uninterested in exposing his influence and danger: he's simply a Democrat "donor."
Sometimes in order to grow and truly progress an individual must acknowledge and expose a personal flaw or endangerment; or a family must expose a criminal or addicted or predatory son, daughter, cousin or uncle, in order to "come clean," as it were and begin dealing with the "infection" and to heal from it. And, sometimes, a nation must renounce, denounce and expunge a rotting threat like slavery and secession, racism, the Ku Klux Klan and the like, communism and its traitors after World War II, and, I observe, the incestuous poison of anti-Constitutionalism, anti-Americanism and anti-Heritage enemies, both home-grown and loosely invited in. For it is they who find only fault in our system and who ignore, if not hate, the majesty of the American idea – like Soros.
Drawn to this newly muscular anti-Americanism/anti-culturalism, which is to say, anti-Christian-ism (or aggressive atheism for many), are modern surrealist movements, like homosexuality, trans-genderism, socialism, and various flavors of anti-capitalist racialisms. These are they who have grown up without Western or Indo-European philosophical understanding, reaching adulthood with no capacity for self-control or economic responsibility. Every form of mental or pleasurable distraction comprises their waking hours. The business of making or keeping America strong is the worry of others; the excitement of joining mobs who revel in America's problems is the concern of Soros' type of minions.
Amidst this, our fourth civil war, churches and other institutions (like SCHOOLS) get caught up in pleasing the loudest, angriest movements – especially those undercutting fundamental social strengths. Some churches fear irrelevance and now display the "rainbow" welcome signs and banners. Despite the warmth and caring Christians try to convey with the new messaging, they have, in my view, fallen prey to leftist surreality.
The message of the Bible is not to "tolerate" everything; it also is not to kill those whose actions are intolerable. But Christians are instructed to live and act in certain ways. Compassion is not tolerance and vice-versa. Christians are encouraged to tell the Story and to teach the Word, and the Word doesn't encourage acceptance of unusual acts and lifestyles while it does encourage the strengths and habits that make for strong families and societies that can create more Christians. The Word itself serves the world well – every flaw and interpretation that humans inject into Biblical lessons, and the political organizations that grow from them, should logically not be allowed to impugn the Word.
The rainbow philosophy is antithetical. Many churches have succumbed to it in some sort of conjunction with purely political forces for whom every vote is equivalent regardless of motivation. For churches, it seems to me, every motivation is not equivalent and "Christian" clergy have an obligation to make that clear: it's not a political rainbow – it's a clear white light.
Ultimately, the forces who have won the battle of the rainbow-welcomes across society and our legislatures, are intent on dissolving the hold of Christianity and the Judeo-Christian ethic that underpins "Western" culture. The dissolution of the family and a separation from history are their most powerful tools. They rely on ignorance as they replace age-old truths with newly minted unrealities, some of which have actually generated laws governing the majority. It's weird and worth resisting.