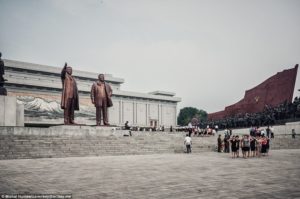 There are wars and rumors of war. How pleasant the last year of Ronald Reagan's term appears, looking back. The Soviet Union was falling apart, the economy was in good shape, there was no ISIS, the Middle East was relatively calm, commodity markets were "under control," so to speak, Syria, Libya, Venezuela and even the East Coast of Africa, Iraq and Iran were comparatively un-troublesome. Nicaragua was yanked back from Communism, Chile restored free elections, casting off Pinochet's military police state (CIA -created), and American ships were still welcome in the Philippines. Thankfully, the senior George Bush defeated Michael Dukakis for president. Desert Storm and Bill and Hillary Clinton were yet to burden the polity.
Read the history of the '80s and things were anything but calm and peaceful. Nelson Mandela was still in jail, Robert Mugabe was firmly installed as "president" of Zimbabwe, and Hosni Mubarak was in his first decade of his never-untroubled leadership of Egypt and rough alliance with the U. S. Africa was in turmoil and many were starving, there, while tribal racism threatened millions. Argentina barely functioned with double digit inflation, yet decided to invade the "Falklands/Malvinas" to "reclaim" its sovereignty, based as much on proximity as on history. The U. K. decided under Thatcher, to re-take them. Ronald Reagan easily subverted the Monroe Doctrine to help his friend, Maggie, sink the General Belgrano.
Typically we try to believe that politics creates war and the conditions for war, but we can't quite succeed at that. While war may be a political tool, it rarely rewards the party or leader in power in the intended way. On the other side of the mirror, however, it can be observed that war often creates politics – in fact, not just often, but generally – in that militarism is easily equated with patriotism and tends to divide the body politic along patriotic lines. One cannot hide from the truth that neither the body politic nor the nations at war are generally benefited. Individual politicians or their party… maybe.
Now, what? A supposedly "America first" presidential candidate (meaning to a degree: America only) has been turned in the span of 5 months to a president willing to view the world like a so-called "neo-Con." Abruptly, acts of war – missiles into Syria, super-bomb into Afghanistan, threats of hot responses to North Korean "provocations" – are deemed useful internationally. Supposedly, this turn-about and its apparent unpredictability of the new president, will move China to change its policies toward North Korea; will cause Russia to pull back from its prior stance in Syria, and possibly in Ukraine and Georgia. Even Iran's theocrats will quake at the threats of Donald Trump since we have been willing to take some actions against people or things that have almost no chance of retaliation.
Perhaps we should bomb Venezuela because the government there is starving its people and being mean.
Sudan and Zimbabwe are worth at least some cruise missiles, aren't they? How demeaning it is to choose Syria… Syria! Sudan has at least as crappy a government as Syria! We live in a strange nation growing stranger.
Americans think, many of us, that the U. S. is pure and well-intentioned and very misunderstood by all the nations or groups that distrust us and wish to kill us. Our global deployment of military activities: 156 countries in a recent estimate, is for humanitarian aid and economic development. Well, that's right – economic development of somebody.
Maybe it's necessary. Multiple administrations have thought so. The "Truman Doctrine" of containing Communism has morphed into the unspoken – dare we say, secret – doctrine of containing everybody. The World's policeman, indeed.
Well, say the thoughtful ones, if not us, then who? China? Russia? God forbid! Believe us, they thoughtfully pronounce, you don't want to live in a world that's not "led" by the United States. Perhaps not.
Money talks. Our beneficial "Petro-dollar" scheme buttressed by Saudi Arabia has permitted the U. S. to borrow and spend in astronomical quantities, to the degree that our worldwide military adventures have been "free," sort-of. We have outspent our income – the largest income in the world to boot – for 50 years, by creating unlimited debt. Maybe it is completely fair that we "protect" the world with its own money. After all, it costs us only the interest – and a few thousand of our very best men and women. At least during this election cycle.
So, Mr. President, what are we going to stir up? It's one thing to risk your own people, quite another to risk most of South Korea. Or Japan. Attacking the North Koreans can never be done with clear knowledge of all of their capabilities. What if they have pre-positioned a couple of nukes next to the DMZ? Or just offshore of South Korea? How many "South" Koreans are really "North" Koreans? Some, for sure.
And, then, there ARE the 30,000 or so Americans watching the DMZ from the South who are some sort of "trip wire" in the event North Korea starts an invasion. That must be a comfort. Most likely, if the North does decide to make a move, it won't start at the DMZ, it will start well behind it, in Seoul. Then what shall the 30,000 do? Invade the North? That's not a plan, either. The North has many, many more troops and artillery arrayed on their side.
If the North moves it will be all or nothing – do or die. They must know that Hell will shortly find them if they start anything. By the same token, if the U. S. starts something, the North must either fold its tent and retreat or, again, go all out with everything they have – they've sort-of talked themselves into it.
Oh, Mr. Trump, what are you going to do? You risk the South at the very least. Recent endeavors show that there are not enough bombs to deliver victory without protracted ground action. Do you really think China will allow the decimation of its handy cat's paw? Or will Russia, for that matter? Who will overnight become whose friend if things "go hot?"
Finally, like abused children, North Koreans will not abandon their homeland or their dear leader. I think you have not contemplated the potential of a new Asian war long enough, Mr. T. You've not been in office long enough: and there can be only two terms.