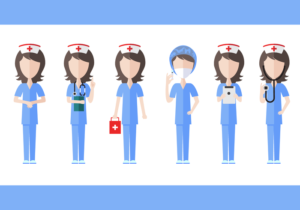 We had a disturbing survey call the other night, all about nurses and how many patients each nurse should be caring for at one time. The Massachusetts Nurses Association has obtained enough signatures to place a ballot question for the November, 2018 election.
The gist of the question is whether the Commonwealth of Massachusetts shall create or expand an agency that monitors nursing staffing levels in order to enforce certain ratios of nurses to patients. The mechanism of enforcement would be $25,000 fines for each instance of "failing" to maintain nursing levels that are satisfactory to nurses(!).
Arguments in favor run the gamut of every negative consequence of inadequate nursing levels. Further strictures in the proposed law demand that nurse staffing levels be brought into conformity with the nurse-association-prescribed nurse-patients ratios without reducing other staffing levels as for maintenance or food-service departments. This, naturally, would increase hospital costs per patient-hour and of health care generally. Still, the over-arching deep concern for everything patient-related causes the M. N. A. to forge ahead despite the cost implications.
Some of the nurses' arguments are valid. Patient outcomes are better with adequate nursing attentiveness. Sometimes this means simple numbers of nurses, but not always. Poor outcomes often result from poor administration or administrative requirements – requirements that sheer numbers won't correct.
This is essentially a pro-union effort at the ballot box, sponsored by about 25% of nurses, hoping to increase the numbers of nurses (and union dues-paying members), but it threatens exactly what they hope to "improve." First, if it passes and hospitals are forced to add nurses, the average pay is going to decline. This is not hard to understand. The only alternative to that likely outcome is the threat of nurses' strikes for higher pay, and this is, like all union initiatives, the fundamental bargain – read: threat.
Neither care quality nor care cost will come in to alignment with patient desires until patients, themselves, return to the position of customer. Customers do some research on what they are going to buy. They are able to check out Consumer Reports, for example, where experts have done the research for them. They can visit different sources for the same products and services before choosing one to buy from.
In truth, people know more about their next car or flat-screen television than they do about their next medical procedure, the likely providers involved or even about their own doctor(!), never mind the amount of nursing attention they might receive. Maybe if patients – or a trusted advisor – knew enough about health providers and institutions to make rational judgments about which provides the best balance of nursing care, cost and outcomes, cost would come down, nurses would not be overworked and patients would be best served.
Asking the government and its politicians to make and enforce more rules about how to make patients well (ostensibly) is not an answer or even a good question. Restore the concept of "customer" to potential patients, in place of "entitled victim."
As for nurses, the last thing we need is for skilled professionals to be relegated to average "service-unit" status for bargaining purposes, leaving neither room for excellence nor sanctions for failure.