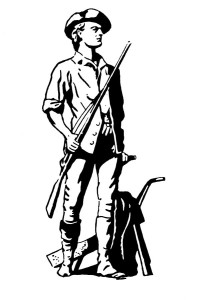 It is time that we institute a national program I call "Guardian." The Guardian program will be populated by men and women who are trained to take emergency defensive steps in all sorts of venues, and who are willing to carry and employ firearms as part of those steps. Each would be carefully investigated by the U. S. Marshall service, and trained, at partly their own expense, at certified gun safety ranges and, later, at police academies in each state. The idea is that these thousands of individuals would have a form of interdiction powers, such that one might stop an incipient crime or shooting by presenting his or her weapon and a trained stance, in situations where an idiot wielding a firearm would have expected no resistance whatsoever.
Copious history supports the likelihood that a fool with a gun will usually abandon his plans and submit or attempt to flee when faced with a defender with a gun. At the worst, like the examples of Adam Lanza at Newtown, or James Holmes at Aurora, Colorado, or even the two dopes at Columbine High School, a single armed and trained individual would have stopped the carnage before or immediately upon its beginning in all three of those circumstances.
Guardians would also be equipped with "911" buttons, so to speak, that would be required equipment anytime they are carrying a firearm. One push of the button would open a 911 channel unique to that purpose, such that the wearer could explain what was happening as it unfolded. Police could respond at their fastest, knowing it was a potential shooting incident, probably active.
Guardians would be insured under a federal policy, and held harmless from prosecution unless true negligence were established. It will be at some risk that a gun owner might submit to the rigors of Guardianship, but, aside from announcing the existence of the program and the numbers of Guardians in the country, neither their identity nor their locations – even generally – would be published.
Obviously they would be witnesses, but perhaps better-quality witnesses – part of their training. Masking their identities at trial is not an insurmountable problem.
Many of the objections raised to the free exercise of 2nd Amendment rights eventually come around to "that's not the kind of country we are," or, "we aren't that kind of people." Such statements are correct, in the worst way. America is increasingly occupied by who must be seen as "non-Americans."
That is, there are, ANNUALLY, many thousands of illegal and legal entrants added to our population, who have no desire or intent to "become" Americans. In other words, they are not interested in our culture, morals or heritage of individual responsibility. Many of these entrants and immigrants, come to the U. S. for no more than personal gain. They may work, but this means "under the table" for a large number. They may be granted refugee status and this provides various forms of welfare support without waiting, and it is as likely as not that what is claimed to earn "refugee" status is a lie. They may have a distant relative already here, making it easy to "win" welfare status.
They may simply be criminals, drug merchants or otherwise, ready to take full advantage of liberalism's open arms. Despite their receipt of welfare and education, these criminal types remain members of criminal gangs who ply death amongst us.
The rise of indigenous gangs is another source of extreme criminality that soft hearts and softer heads attempt to explain, rationalize and justify as a fault not of the criminals involved, but of society -American society – itself.
None of these sources of sociopathy can be traced to the mere availability of guns, nor to the legal ownership of guns, regardless of number. What these sources have done, similarly to the influx of Italian gangs in the late 1800's and early 1900's, is to introduce a new element of danger and criminality to American society, with two significant differences.
One is the scale and reach of modern criminality – largely connected to drugs – which reaches down to virtually every street, unlike "organized crime" that may have profited from many streets, but which limited its murderous effects to rivals in its own universe. The other is that, today, murder is a way of doing business, even crappy, penny-ante neighborhood-dominance business. Kids are being shot before they can overdose.
The conditions for widespread death-dealing are a direct result of federal policiy failures. Yet many are afraid to recognize – or are blind to – that fact. As suburban kids, from "good" towns and families run a race to eternity with heroin, fentanyl and pain-killers, not always beating the cops with the Narcan, at least not the first time, more and more parents, police, teachers and counselors are asking why things have sunk to this.
Having porous borders for not just the past 8 years, but for the past 30, has promoted the hard drug trade like nothing else. Instead of delivering drugs to retailers, loose immigration has enabled larger-scale wholesalers to establish themselves in every metropolitan area and in many mid-size cities. Drugs, now, are delivered in tons rather than pounds. Shipments of cash in return are measured the same way.
A federal administration that prevents arrest and deportation of illegals only compounds failures of policy marking the last 30 or more years. Compounding that, the policy of releasing convicted criminals, mostly drug dealers – re-defined as "non-violent" offenders – has made a mockery of federal law in general, and a mockery of the oath by every member of our armed forces, to "…support and defend the Constitution of the United States against all enemies, foreign and domestic…"
Finally, we have entered a period of social confusion that seems more concerned with the misfortune of criminals than with that of their victims. A new faith in "rehabilitation" has infected our judicial network and we are less safe. Some can be rehabilitated, and God bless them. The other 80% of violent offenders – and I include drug dealers – will not be. Yet we feel compelled to parole them, somehow, to test arcane psychological theories. No one involved is held accountable when a parolee murders an innocent, and we are less safe.
Combined with the influx of new criminals from outside our borders, we have created our own, unfolding tragedy. Gun ownership is a perfectly logical reaction; self-defense an inherent right, the Guardian program a wise extension of those rights. I strongly encourage its adoption.