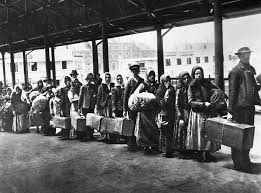 Immigration is a decidedly misunderstood aspect of nationhood. Our Constitution nowhere mentions border protection. At the time of its creation and adoption, everyone was intimately aware of and concerned with frontiers, borders, defense and protecting the existence of our new nation.
Border integrity was so obviously the business of the new government that no one needed reminding. Besides, it was pretty difficult for an individual to get here and hard for him to cause widespread mayhem or murder. Women didn't do such things in the old days.
And there was still a frontier and unlimited space, or so it seemed. From our side the frontier was where WE were the invaders, which served as a form of border defense in its own way. Manifest destiny.
But border control is inherent to the obligations of government, indeed, primary to them. Without it government becomes simply a facilitator in the demise of it's ostensible permanence.
Americans have grown up in a dream world. Thanks to instant worldwide communications and the lingering lessons of the 1960's, Gen-X'ers and Millennials perceive themselves as "citizens of the world," and borders as inconveniences. To many, the advantages of the United States belong to the world and to everyone who wishes to share the "American Dream." And he or she has an ill-defined "right" to those advantages, especially if he or she has had a tough life, is poor, and not white… and not a Christian.
As Americans have drifted away from less-than perfect churches, and enjoyed relative peace and fattening prosperity, their children have been taught that religion has no place in their education, and, besides, it imposes restrictions on the wonderful new forms of fun that the "American Dream" has produced. Who are we to withhold this great place to live from non-citizens? How cruel to enforce our own laws.
But, despite our lax mores, the majority of states elected a very different kind of leader in Donald Trump. There is trepidation to be sure, in the early going, but we're getting what he promised. There is no way – NO way – to reverse the course of national dissipation that outrageous immigration, purposeful lack of border control, and fascination with socialism and communism have wrought, without breaking a lot of eggs… or snowflakes.
Trump, or someone quite like him, was inevitable following the descent into the regulatory, bureaucratic, non-representative state that has eroded the Constitution and the real freedoms enshrined therein. A second mendacious socialist was too much for the heart and soul of the United States. As Ross Perot once stated, 24 years earlier, it was "…time to pick up the broom and go clean out the barn."
Well, it took us a generation, but we finally hired someone to do so, except he's "draining the swamp," which might be better.
Illegal and un-vetted immigration was Trump's key theme for a year and a half. Daily there are dozens of incidents in which illegal entrants have broken laws as simple as drunk-driving and as complex as home invasion and rape. Sometimes as simple as vehicular homicide or as complex as drug distribution. Sometimes as simple as working under-the-table, or as complex as gang-banging, mayhem and rioting. Sometimes as simple as terrorism with rapid-fire weapons or as complex as terrorism with bombs… or passenger jets.
What is our obligation to illegal entrants, or to false asylum-seekers or to false refugees? Do they have Constitutional rights? How is that possible? When did the Constitution start applying to non-citizens?
What obligations do we have to our legal citizens? Well, everything the Constitution ostensibly guarantees, including the Bill of Rights, which did not create rights, but clearly enumerated them as rights the government we formed henceforth was obligated – is obligated – to PROTECT. Nowhere is the government given license to spread its responsibilities across the peoples of the entire globe – including trying to change their governments.
Our obligation ends at civil, humane treatment of non-citizens, including humane deportation if they are inside our borders illegally. Hell, we even treat them humanely if they commit serious crimes. Since even wealthy drug dealers are "indigent" when caught, we provide attorneys for one and all, EVEN TO FIGHT DEPORTATION when our total responsibility to the citizens of the United States is prompt, humane deportation of them!
The U. S. is not perfect and has been less so in the past, and MORE SO at other times in our past. On balance, we've done more good than bad and jump first and fastest to aid anyone who asks when disaster strikes. Our philosophies and the IDEAS that formed this nation are better than those underpinning most countries. That's not bragging, it's just so.
They are the reason our growth and wealth have led the world, and why, frankly, so many have come here and try to come here, now. Like no other nation, the United States invites people from every other nation to come here – legally – in order to become Americans. It's a unique process. Americans, for our part, welcome both visitors and newly-minted citizens. One need not be of the exact same race and origin as those already here, he or she need only share the ideas of America: personal freedom and responsibility, religious freedom and tolerance; honest dealing, respect for law and earning one's own way.
Those who wail about "illegals" as though they were not only entitled to steal across our borders but are deserving of Constitutional rights as amended and applied for citizens to this day, are deeply confused as to the nature of nationhood, specifically, the nationhood of the United States. These are the same who refuse to acknowledge any goodness in the hearts of patriots of this country, now or in the past, and who, if charged with the task of education, nearly refuse to teach its founding, its ideas or the documents and philosophies that underlay them. For shame.
And so, there is no justice in denying free entrance to all who choose to take our bounty and who, if properly different from U. S. citizens, can help remove the blot of America.
The alternative to erasing the time and impact of Americana is controlling immigration, indeed, limiting it, so that those who come do so to assimilate and share the ideas and ideals of our exceptional nation. All may become Americans, one nation under God.
"OMG, can you say that?"