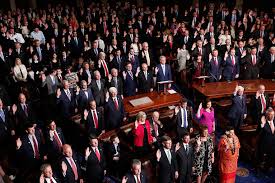 We are truly vexed in this, our great, open, rich, cruel, loving and generous country with our $20 Trillion debt, by social and civic problems of our own making. Whole industries are comprised of complaining and hating perceived groups of people unfairly imposing problems and then unfairly benefiting from them. Not much money seems to flow toward the loving business, but various dolled-up hatreds are profitable.
Some hatreds are aimed at Republicans, for no specific reason other than party affiliation; some are aimed at Democrats for the same reason. Both of those groups seem to have the same goals of expanding welfare, growing government and raising the debt ceiling. Neither is trying to seriously fight the LGBTQW revolution, although one side obtains money by claiming the other side hates LGBTQW "victims." But aside from a lot of posturing, little honest change is proposed by either party, whether in power or out, although there's plenty of the opposite.
When erstwhile Republicans and various independents and conservative-leaning parents elected a hard-to-fathom or mollify President Trump who thought he had the balls to actually change SOMETHING, leftists and others wedded to the status-quo ante began raising gobs of cash from fellow travelers and bird-brains who actually do hate HIM. Most of the money comes from people who hate haters. Those same hate bigots – people who pre-judge their neighbors as somehow flawed, just as much. In fact, they are able to spot bigots from quite a distance, especially if they are wearing one of those stupid red hats… or deign to vote for Republicans.
There has been some change, but nothing so dramatic as to let Constitutionalists relax.
In our hubris, we, Americans, a large minority of us at any rate, are convinced that normal laws of economics and well-established human nature no longer apply to us. Through our elected representatives we have become convinced that we can borrow a richer life, today, from our great grandchildren to whom and for which we'll never answer.
We also believe that our enjoyment of freedom and wealth is somewhat automatic and somehow deserved. We are so happy with it and it's easy accessibility, and being suspicious of our governors and bosses, we're determined to share it with anyone those governors and bosses don't like – just to get even. Why should we be so selfish as to keep America to ourselves? This misunderstanding leads us to fight against any standards or limits, like anachronistic borders, that those cruel governors want to maintain.
Freedom is some sort of gift, leftists say, provided to us by government, the source of all that's good. If you aren't as free as you'd like, more government will fix it. They don't want to be limited by those Christian haters, especially the ones actually in churches… you know the ones, in their black suits and robes who read the "Bahh-bull," for Heaven's sake. The basis of Western civilization has no connection to today's disconnected leftists. "Thanks, God," they say, "thy system was far from perfect so we'll take it from here. Call me, we'll do a funeral."
It's the perfect statement of non-responsibility, which is the leftist, group-identity outlook. Whatever group we can burden you with is the reason things have gone the way they have for you – even if we don't really know how things have gone for you. If you're black (the best group ever invented, thank you, Lord, for giving them different skin; it helps a lot) then all sorts of causes for your victimized life can be proclaimed. Don't y'all worry about finding justice in this White-privileged world, we are here to help the helpless. Take this check and be sure to put yourselves in POWER on election day.
To live a political existence on the basis of resentment of White people, is to, eventually, be subsumed by hatred. Evidence of this effect is everywhere poor, or "disadvantaged" blacks and other minorities are concentrated: ghettos. Surrounded by others who feel cheated out of their fair shares, and further surrounded by more richly "advantaged" Whites, ghetto residents become hateful, regardless of EBT cards, free health care and food subsidies. Welfare becomes merely a down-payment on justice.
It should be obvious, had education done its job, that government cannot create or impose justice on a social system; but, it can adjudicate injustice. In other words, if laws are made clearly and succinctly, the failure of some one or of several some-ones to treat another person or group of several persons fairly under the law, then government can ascertain appropriate charges for failing to act legally toward another or toward others, and prosecute illegal actors for their failing and impose penalty or restitution to those so treated.
What government should never do is create crimes out of feelings, or stretch clear laws into fuzziness about things people feel are unfair. This includes creating laws to cover self-declared conditions for which there is no empirical, quantifiable proof. Unfortunately, this includes special laws concerning homosexuality, sexual indecision or confusion, and mis-named trans-genderism. It should also not provide special legal strictures based on race. Rather, law is intended for, and only fair if applied to, sanctioning individuals or legal constructs like corporations when those persons/entities act outside of clear laws that are applicable to everyone of the members of society. We as a people or nation, create immense structures of unfairness and unreality when we attempt to legislate based on feelings and political unhappiness.
This old observer suggests that mankind's worst circumstances result from acceptance of – even codification of – unreal, baseless claims and beliefs. For some this is religion, and many examples of severe warfare between religious groups or sects, can be cited. For shame. But there are other incredible murderers, like Hitler, for whom occult religious stories justified warfare on a global scale. Coupled with hatred of a group for unreal reasons, it formed an upheaval from which we still suffer, almost 80 years later. Unreality made "real."
Communism is much the same. Not so much riven by group hate, Communists hate individuality and freedom. It is more economic than philosophical, and even more deadly than hatred. Power, of course is the currency of socialism of all stripes. For Communists there are only two groups: the official Party and, economically, everyone else. Resistance to being part of the nationwide serfdom into which Communism inevitably devolves, yields starvation or the gulag. Venezuela is an obvious current example of Communism's "promise."
Communism is based on unreality although its effects are brutally real. It believes in a different human nature than what is in fact reality. We are on this same path in the United States, evidenced not the least by our world-threatening debt.
Yet on we stumble, electing and re-electing people who don't like America or the ideas that created it because the people who crafted it were white or owned slaves in a slave-owning society, or picked their nose in public. They are blind to the fact that these were the men who built a ladder to get us out of slavery and a thousand other unfairnesses. And so we are locked into hatred and failure and inability to govern while anguishing over millionaires taking the knee at football games, another example of trying to "govern" based on unreality.
Unreality as the basis for action is the same as dishonesty, well-stated by Mark Twain: "It's not what you don't know that's the problem; it's what you do know that just ain't so."