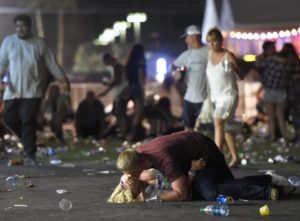 The atrocious murdering took barely ten minutes. It is very likely that not one person who was killed or wounded one Sunday afternoon in Las Vegas, knew the man we are told was their killer. Ostensibly Stephen Paddock had been accumulating weapons for "years." He sent his "girlfriend" back to her native Phillipines two weeks ahead of the carnage he was planning, and then wired her money. He may have been trying to set up a shooting a week or more earlier but couldn't obtain the rooms he needed for his desired perch. So, it's possible that all of the weapons, volumes of ammunition and loaded clips, and other preparations were solely the work of one secretive, virtually unknown man. Maybe.
The current profile of Paddock indicates that he wanted to shoot at country music fans. On the other hand, he was a Democrat. Does that paint him with a group identity that explains anything? He owned guns – like 50 to 80 million other Americans. That makes him part of the American "gun culture." It hasn't been reported whether he owns a power drill or handsaw, or possibly a router, like 50 million other Americans, so it's not clear whether Paddock was part of the "power tool" culture. However, he must, must, be placed in a hated group and "gun owners" will do perfectly.
One reporter has already been fired for stating that country music fans were likely "Republican gun-toters" who deserved no sympathy. She made the mistake of stating how rabid leftists feel, and that's a political no-no.
Legal gun owners woke up Monday, October 2nd to find that they were all potential murderers, kept from shooting up public gatherings, nightclubs, elementary schools and churches only by the thinnest of membranes between sanity and insanity. Who knew? Paddock had prepared his "blind" to be relatively immune from armed response. Most of these kinds of attacks place the shooter(s) at the scene where, in good likelihood, armed targets could have shot back.
What liberals never consider, and gun owners fail to proclaim, is that every year in the united States, more than 800,000 times (not every instance makes the papers), a private gun owner stops a crime or a criminal, usually with NO shots fired. In many instances, a non gun-owner overpowers an armed criminal and wrests a weapon from his hands and subdues him. Eight hundred thousand (some estimates are well over a million) are a lot of incidents. Essentially, open America could not maintain a civil society without private gun ownership. Oh, the horror.
The alternative is a police state. Thoughtful people should realize that they do not really want to live in a nation that will confiscate private property that is deemed undesireable by the government! Some think that that same government will somehow add to "freedom" by limiting it… so long as the limits are placed on the "group" they don't like. Those same accuse President Trump of being "Hitler," when the exact opposite is the case. Those who want the government to have more power to regulate this or that disapproved group, are playing the game that Germans played as Jews and Slavic peoples were systematically rounded up, stolen-from and finally eliminated in camps. Oh, the ignorance.
It should be clearer, by now, that individual freedom is the most precious of jewels, yet faced with freedom's challenges, leftists are quick to trade it away for shifting quantities of safety and even for convenience. For shame. While a crude freedom, the ability to self-defend is excruciatingly fundamental to individual freedom. Yet the first reaction of socialists and communists of every stripe (stay mindful of the fact that Hitler, that old ultra-left socialist, disarmed Germans, too) is to limit this fundamental freedom.
In the United States, with supposedly universal public education, the most costly in the world, the lessons of history and the majesty of the ideas of America, ought to be fully appreciated. But, on balance, it appears that the rest of the world appreciates our exceptional promise of individual freedom, far better than we do, ourselves.
Freedom is a tremendous threat to socialist, controller types: those who naturally gravitate toward governments everywhere, especially bureaucrats who, never neutral, impose increasing structure and regulation on populations. By establishing itself merely as well as was done in 1776, the idea that created "America" out of disparate colonies has forever drawn enemies and subversion, and lately, outright attacks.
None of that speaks directly to Stephen Paddock's craziness, but to the distinctly divided reactions to it. The "Left" immediately wants to restrict everyone's rights to, theoretically, prevent future murders, mass and otherwise; the "Right" wants to enforce existing laws and employ better methods to inhibit crazy people and proto-criminals from obtaining or using weapons, including strict sanctions on less-murderous misuse of weapons. We can't make the wild actions of one deranged screwball into a pattern that justifies attacking our rights.
What we can do is share information to identify unusual purchasing and collection patterns that might identify individuals who are potential threats. But we must guard our Fourth Amendment rights. The visceral urge to control people in order that they'll be "safe," cannot be allowed to subvert our privacy and personal sovereignty. Paddock was a monster and he's now dead. Let's not destroy our freedom because of him. Far, far more people are killed by handguns involved in gang and drug activities, almost every month.
We don't count the innocents aborted by the tens of thousands.