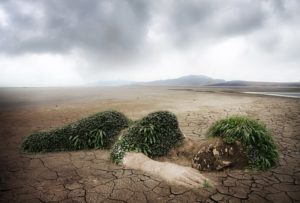 Real conservatives are also conservationists.  Liberals, of course, will scoff at this, but Prudence tells us that this is a logical relationship.  The nature of true conservancy can illuminate the right thinking of true conservatives.
Those who fight for conservation of nature have drawn political lines mainly along economic – often anti-economic – lines.  The in-group of conservationists tends to view all those who are not as rabid about conservation as they as somewhat backward, perhaps rapacious exploiters who care about only profit… even if it will "destroy" our home planet.  Planetary destruction is a tall order, but humans have been quite industrious about modifying our environments, plural, although the greatest, planet-wide climatological changes have occurred with no human input whatsoever.  Still, our increasing need for energy has changed the lower atmosphere, at least, making humans ever more suspect.
As defined by conservationists, conservatives are all greedy, overweight and driven by profits; very conservative people, however, see such people as enemies of honest capitalism similar to their being enemies of conservation.  Real conservatives are not in favor of unregulated, monopoly capitalism, like that which results from close connections to politicians and their overreaching governance.
Real conservatism is not reactionary, but it does desire to conserve good philosophies and, with them, the best of ethics for organizing and governing our society.  This also means conserving the best of our culture, not plural.  It is, viewed without hate, not all bad.
Some conservationists would sacrifice human civilization to preserve a pristine habitat for every other form of life, or at least, white Anglo-Saxon Protestants wouldn't be missed, especially if snail-darters would then thrive.  Once enthralled by being smarter and more sensitive than everyone else, rabid conservationists tend to ally with others who are equally so convinced.  Political power follows.  Now, the very overreaching government that makes so-called capitalism an enemy of vast majorities, is seen as the one force needed to assure adherence to their beliefs – whether conservationist, abortionist or racist (anti-white).
True conservatives can discern which of these causes should be opposed and which are worth working with.  We oppose abortion-on-demand and racism of all colors.  We believe in non-wastefulness, non-pollution, and clean environments.  We tend to be religious and we do NOT seek for the government(s) to enforce our beliefs, but to protect them.  We oppose globalized, monopolistic crony-capitalism since it tends toward organized theft of both wealth and sovereignty.  We trust individuals to perfect themselves, yet we insist on firm application of laws and sanctions for wrongdoing… for everyone.
Conservatives believe in balance and in courtesy toward all.  We tend to accept others as good or, at least, right-motivated until proven wrong.  To true conservatives, what someone feels is not nearly as important as what one DOES.  That is, anyone who is willing to ACT like an American, including respect for our laws and for other people, is welcome to live in America.  It's fairly simple.  Respect for other people includes respect for their environment – everyone's environment, while enabling economic opportunity and private property rights that make it possible for individuals to be FREE to the greatest degree possible… FROM GOVERNMENT.
The most passionate conservationists are well-advised to be conservatives, as well, and to recognize human nature as individual and not monolithic.  Conservationists seem to have fallen into encouragement of a police state that will enforce conservation as they see it; conservation that pits its desired ends AGAINST people, requiring, therefore, government to force compliance with conservationists' corner on a part of science.  This ignores other parts of science, particularly that of human nature, yielding a somewhat fascist liberalism that has rendered America a rich-appearing debtor, barely able to afford conservation or even self-defense.
The success of the American experiment will be recognized in the shrinkage of government, not its growth, and in its honesty of education, not its bias.