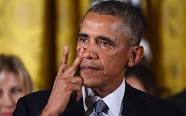 Of the election marathon of 2015-2016 it is safe to say that the Hillary phenomenon is not much of a surprise, although the Bernie Sanders phenomenon is – and he's more instructive.
On the other hand, the Trump phenomenon has caught a lot of supposed wise observers by surprise and it surely ought not have. Trump is fulfilling an Alinsky-ite prediction: Obama's EVERY effort has been to destroy his enemies and the classic Alinsky tactics have been employed repeatedly over his two terms.
First was / is to assault normalcy not quite outrageously, but steadfastly, in small ways and large. The "crisis" of financial meltdown, so convenient for Obama's election, was the blasting cap. Never let a good crisis go to waste. Bam! In came the bailouts and Obama's first victory in the budget-busting "stimulus" package that upped federal spending by 20%. Republicans didn't have the majority, then, and watched helplessly, moaning and groaning, some even voting FOR it – able to swallow almost anything.
The Tea Party was born and the 2010 campaigns for Congress joined at that moment. The opposition was "stirred up," as it were, and Obama's plan was working. With the mainstream media lathering syrup on his every waffle of wisdom, Republicans were made to look silly in opposition. Time to strike!
In came Obamacare, that Orwellian lie of a law (or, Orwellian pile of crap… whatever works for you), that caught Republicans and the country off-guard. Bam! That was slammed through: another gigantic increase in federal share of GDP, gigantic increase in police-state controls over our most intimate freedoms, and Republicans were made to look silly in opposition.
In 2010 the House went Republican. Oh, wonderful, they said, now we can thwart Obama through control of the "purse strings!" Obama was perfectly satisfied to have Congress split. His plan never was to increase Democratic majorities – it was to destroy Republicans and any opposition to his socialist weakening of the U. S. When you're in a shooting gallery, the only ducks you can hit are the ones parading by in front of you.
Well, the Republicans were really mad, now, and they proposed repeal of Obamacare, over and over again. The Senate pissed on that idea and Republicans were made to look silly in opposition. No formal budgets were passed, just continuing resolutions that cemented-in the 20% budget increase (plus Obamacare that kept getting funded) the stimulus had injected, and Republicans were made to look silly in opposition, especially when the government shut down for a few days.
Oh, my God! Look at the suffering! It didn't stop the Republicans. They made believable promises to their base that once they had both Senate and House they could really stop the Obama regime and its terrible…, whatevers – fill in the blank and send a check. Republicans and conservatives were reaping a windfall in donations thanks to that ogre, Obama. And continuing resolutions were passed and the budget remained outrageous, even as Obama could claim to be "reducing deficits at the fastest rate in history." It was still better that Republicans now controlled Congress for the press could make them look even sillier in opposition… as well as disingenuous to their base!
Having boxed them in with lies about government shutdowns and other opposing acts, Obama and the press displayed all too clearly how Republicans could not be trusted even when they had all the power to stop him that they'd asked for.
Enter Trump, a fallen angel, but angel nonetheless. He has ploughed through standard Republicans, and even Ted Cruz, engendering a substantial opposition within the Republican party, itself, including Mitt Romney Syndrome, that will, if successful in presenting a third candidate, complete the destruction of Obama's enemies.
It was a long game, but perfectly played by the president, traitor though he may be. Watching the Republicans fumble around, afraid to impeach or withhold funds, all the other crises of Obama's making were just diversionary, happily watched and waited-out while the long game played along.
Republicans' 8 years of foolishness have brought us almost to our own goal line, not even talking about defending it, while Mr. Obama flips America the bird.
Prudence Leadbetter