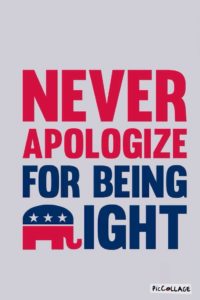 Alas poor education, we once were free.  For those of us… you, who are angry with "conservatives" and who agree that conservatives are (choose all that apply): 1) racist;   2) homophobic; 3) Islamophobic; 4) "Trans"-phobic; 5) anti-women; 6) anti-science;    7) climate change deniers; and 8) fascists.  Excuse me, I forgot, 9) Christian fanatics.
Conservatives who support or, worse, don't mind Donald Trump, are also stupid.  Did we pretty-much cover it?  Let's not forget the Russians – don't mean to slight anyone.
The United States was premised on the concept of individual sovereignty and liberty.  This isn't taught anymore, but it's true.  If you perceive or believe that we are "free" only when our entire group is free, then you are, to a degree, believing that the very basis for the exceptional founding of our nation, is no longer valid.  That's quite sad.
The U. S. was not founded to be a unionized social-service mega-agency.  That we have become so is far from a testament to our benign compassion for the poor; not at all.  Rather, it is a massive subversion of liberty by the left.
"What?"  You exclaim, "Should we just let these poor, oppressed people starve?  If that's what conservatism is, leave me out!"
No, conservatives would have taught those starving people to feed and otherwise take care of themselves.  Those same would then move forward in life without the artificial welfare of any government.  That seems, to the racist, homophobic, anti-women Neanderthals that liberals hate so deeply, like the ultimate compassionate action, and is, in fact, the very basis of free-enterprise capitalism.  There is wide misunderstanding about these principles.
The most easily grasped distinction between liberalism (in modern definition), or leftism, and conservatism (in modern definition), is responsibility – personal responsibility.  That is, modern liberals perceive everyone only as a member of a "demographic."  Everyone only has identity due to matching characteristics of a named (must be known by a name) group.
Easiest to understand in this odd universe is a group known variously as "people of color," "African-Americans," "blacks," or the current liberally-correct description.  People with brown skin are of a hundred origins and genealogies.  By definition they do not comprise a "group" or a tribe or even a nationality.  Why on earth would rational people look at people with brown skin as if they were somehow all connected or similar?  The answer reveals the heart of modern leftism.
The only rational purpose for grouping individuals who share a trait or appearance… even a little, is because those who consider them so might gain political power.  This rationalization has also infected members of the artificially constructed group, who join with liberals in maintaining the belief in the existence of a group that exists only politically and not in fact.  Great anger, hatred and historical distortion stems from this artificial group perception.  By automatic reflection, or reaction, every action of unkindness or perceived "hatred," practiced by anyone not "in" the artificial group, becomes a failing of everyone in the "outgroup," so long as its members share some identifiable characteristic – like a different skin color.  Suddenly, politically, hatred of the outgroup has flowered, and "white privilege" is the result.
Such hatred requires nurturing and nutrition.  Once embarked on the road to political power, people who know how to profit from hatred can't seem ever to reverse course.  The joys of political office are too enticing; the lack of true responsibility too comforting, the outlandish emoluments too rewarding.  Today, hatreds are the MOST COMMON political motivations; statesmanship is nearly invisible.
For some "hatred" is simple cynicism.  These are they for whom "public service" is mere aggrandizement, and to Hell with society so long as they get as much out of our pockets as they can.  For the next level of public cynics, power is their profit, and they are satisfied to gain power for themselves, and to Hell with the rest of us.  The consequences of their powers are of little concern to them – indeed they generally absolve themselves of requirements to adhere to laws they codify.  Mixed into the second group are some of those who learn how to employ baser, defined hatreds in order to gain and retain their cynical powers.  Now it's not simple lies and thievery, it is society-threatening.
And here we are.  Conservatives will point out that the left, constantly riding the "racist" bull, are using black hatred for white supremacists to enhance leftist political power, when it is the left that actually hates blacks by cynically trapping and consigning them to an artificial welfare life.  Blacks, themselves, hate what has happened to them, as they should, but careful education has taught them that it is conservatives who have done this to them.  And on the cycle of hatred goes, while fattened liberals live in mansions, sometimes not even in the districts they "represent."
There are conservative haters, some of whom actually "hate" black or brown people.  Those are a very tiny minority.  Careful education and media manipulation teaches blacks that these few represent all conservatives.  This is easily refuted, but that is never taught. If one simply sets aside personal concerns temporarily and contemplates the question: "What element of society is primarily responsible for social and governmental failure?"
The likely answer will be "conservatives" or, at the very least, "Republicans," the two far from synonymous.  At that point, the thoughtful and caring citizen has to wonder if that is a) possible; and b) how he or she came to think so.
Real conservatives, here defined as constitutionalists and others who believe in free enterprise and personal responsibility, are not haters… of anyone.  Mostly they, we, are disappointed that people of color aren't doing better, on average, particularly with so much evidence of people variously brown in skin color, becoming champions of every field and discipline.  Clearly, or so it seems to us, there is no genetic reason for social failure.  It is based on beliefs, including carefully nurtured hatreds.
The actions that stem from hatred have no claim on forgiveness – from anyone.  The same is true for white-skinned people only more so, since they have no minority status to overcome along the way to happiness.  We have a left-induced tendency to forgive the hatreds of blacks, while trumpeting and often imputing those of whites.  Both destroy society and are to be condemned.  They are not to be exploited, God forbid.  But they are, to our shame… Black and White.