Everyone decided to chide President Trump for privately describing New Hampshire as a "drug-infested den." Oh, the horror! Why, there are genuinely nice people living in New Hampshire; how could he say such a derogatory thing about them?
Well, he didn't, of course, and the release of the content of that conversation was a crime, but who cares if discomfiting Trump is the possible result. Let's use our brains, now, and realize that the point Trump made was that even in New Hampshire, for more than 200 years the veritable definition of good, clean living, based on religious morals and flinty work ethic, the corruption of drugs had penetrated every town and city, and was destroying the heritage of "New-Hampshire-ness" with little to stop it.
It is no wonder that closing the southern border is taken so seriously by Trump and many others. The worst flow of drugs into our nation – and into New Hampshire – begins in Mexico and points further south. Making it harder to get drugs into the country is a good thing. I'm pretty sure of that, but why?
First, let's stipulate that human beings are remarkable products of evolution and more. The "more" is best described as a foundation of religiously sourced and codified morals. Whether you choose to accept any religious "truths" or are an affirmed atheist, it is clear that the hundreds of religious histories and traditions on Earth have brought us to a fairly honest and moral civilization, capable of correcting and perfecting itself. One of our greatest mores is that we call "freedom."
We may think freedom is inherent, but it really is intensely fragile, is it not? Historically, since the organization of city-states, freedom has been merely forms of servitude, some quite oppressive. In fact, the age of kingdoms, kings and subjects, or warlords and serf-protectees, was marked by various forms of tyranny. Granted, some was less benign than others, and the basis of great folk-tales. Robin of Locksley and his Merry Men describes the battle for freedom from oppressive taxation and government incompetence – I didn't invent that irony.
Anyway, back to drugs. None of our heroes in the perpetual fight for freedom, is also described as drug-addled. Indeed, much effort today is described as helping addicts to achieve freedom FROM drugs. So, it seems logical, a free people, ever jealous of their freedom from tyranny, must, by definition, be drug-free as well. Keeping drugs out of America is the logical path to follow IF, and only IF, a leader of Americans is attempting to keep them free. Now we need to look at the headlong rush by various governments within America to actually PROFIT from the cultivation and sale of drugs to their free citizens.
A large element of states' argument FOR drug legalization, is that it costs too much to enforce laws against marijuana and, besides, isn't the use of drugs an exercise of the very freedoms governments are supposed to protect? Well, no, not at all, but we seem to have talked ourselves into this twist of "freedom."
Free people are also responsible for the defense of freedom. This is called citizenship. That is, as we grant powers to an organizing and defensive government, limited by a Constitution that we the people approved of, we also assume an obligation to ourselves, our children and all of future history, to defend those freedoms that government was constituted to PROTECT. That is, by all logic, we are FREE to be FREE, but not free to enslave ourselves, as we do in the grip of drugs.
Oh, come on, you say, pot is no worse than alcohol! Well, perhaps not, that's arguable, what with alcohol being metabolize-able and being only ingestible and not smoke-able. Too-heavy ingestion of alcohol will kill liver and other cells and disrupt neural communications for some time, until naturally removed from the body. The same could be said about marijuana, except that the danger is directly to the lungs, about 20 times that of tobacco cigarettes. The body does expel a lot of the elements of marijuana smoke, but does a poor job of removing THC, tetra-hydra-cannabinol. THC has the friendly quality of being easily absorbed into fat cells.
Fat cells are found all over the body but one of the greatest concentrations is the brain. This is good because fat cells are hardy and relatively long-lived, but it's also a liability when exposed to certain toxins like… well, THC. THC tends to store in fat cells – not only brain cells – which is why it's a risk for lactating mothers to smoke pot, but it is a "freedom," right? Back to brain cells.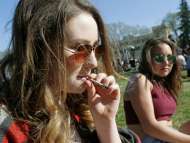 THC stores in brain cells and surreptitiously clogs up the intricate, microscopically tiny connections that enable complex thoughts and memory. "Maybe for real pot-heads, but not me," you say, "I hold down a job and have no problems smoking pot for relaxation on weekends and once in a while other times. No problem at all… did I say that already?"
From the standpoint of defending freedom, however, the softening and dulling of voters' intellects is perfect ground for planting illogical political distinctions, thereby guiding voting patterns in the direction most beneficial for those in power. Faced with a population clamoring for "freedom" from pot-related criminal records, all the Sheriff of Nottingham had to do was come out in favor of legalizing pot and his hold on POWER would have been unshakable. Populist "Robin Hoods" could dash themselves against that rock to no avail. Look around us – it's what we have, now.
Even better than political strength, our state budgets are overspent and there are "revenue short-falls." Actually, there are "spending long-rises," but the important thing is that potheads will buy the stuff and pay the taxes so that we, your most-benevolent governors can take care of the children. You wouldn't deny us that heartfelt mission, would you? You right-wing fascist bastard? After all, taxes on tobacco have declined dangerously and we have so many vital needs that only government can take care of – you see that don't you?
And we bought into this. We accepted, first, that medical marijuana was medical. That's a good one. You could get it at CVS if that were true, but, if they'll buy that they'll buy anything. They'll even accept that the pay of legislators is somehow related to the incomes of corporate giants. Let's test that by voting ourselves 60% raises and see what happens…
This in no way belies the fact that there are medical values to some marijuana components. There are medical values to lots of plants and thank God we have discovered those we have. It doesn't mean that addling our intellects is a goal of a free people, does it? And so we argue about how high the taxes should be now that legalization has been voted-for, with the murder by a pot-stupefied driver with a medical marijuana prescription, of a State Trooper, a mere hiccup in the process. Pot is so benign, in fact, we should recommend it to heroin addicts to help them get off of the "real" drugs.
It has been a big, long-term sale, and we bought it.
Maybe if Trump simply tried a few tokes he could stop hassling druggies, damned right-wing fascist bastard.
Voting for pot legalization is a lot like voting for socialism, the other lie of non-responsibility. "Hey, man, it's like, a free country, man, and health care is a right, not a privilege, man." And not a responsibility? Next you'll be telling us that you're entitled to your freedoms and the government better make sure you keep 'em, man. If it doesn't then you're voting for whoever is in favor of legalizing pot everywhere. Did you know that George Washington made rope out of hemp?