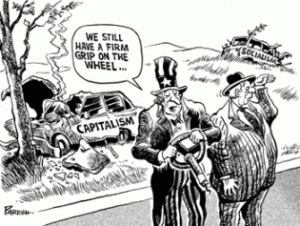 Free-enterprise productive surplus is the antithesis… no, the ANTIDOTE, to tyranny. That is, if it shares across all populations. Capitalism without reason is merely a new tyranny; capitalism wisely checked against excessive accumulation of productive power, is the greatest elevator of the human condition yet devised. To do such wise checking, however, wise governors are required.
The foundation of the American experiment has been that of a democratic REPUBLIC wherein representatives of numbers of citizens and of the several states (House and Senate, respectively) ought to be those most trusted by the citizenry to REPRESENT their interests, among which are national security; defense and sanctity of borders, coasts and harbors; honest and unbiased court officers; equal application of the laws – civil and criminal; honest and careful expenditure of tax and other revenues; fair and honest taxation such that all citizens share a portion of the cost of government, courts and defense; domestic safety ("tranquility") and sound money. All of these reasons for creating government are at varying levels of failure.
Unlike capitalism, itself, governments quickly devolve into somewhat self-serving entities, enriching those who work in government at the expense of citizen-tax-payers, generally rewarding and celebrating degrees of failure. Capitalism quickly roots out failure and assigns its productive capital to enterprise that is more likely to succeed (in terms of generating profit) and as a result, be able to destroy debt. If only government could do the same.
One of the overarching themes of the Federalist papers was avoidance of the concentration of power. Legislative power was to be granted democratically, and kept separate from Executive power and from Judicial power. Judicial power, itself, was to be carefully delineated and separate: "independent of" either Executive or Legislative power. The executive was designed to be subordinate to the Legislative, although with unique powers and authorities, and democratically selected by voters in the several states wholly separately from election of the Legislative representatives.
Another Federalist theme – caveat – is that governments cannot be trusted to reform themselves, leaving that burden to an educated CITIZENRY, by ballot, presumably, but also, as clearly stated in the Declaration of Independence, by the inherent right to throw off government whose failures render it tyrannical, and replace it with one better suited to the general welfare of the citizens FROM WHOM IT DERIVES ITS POWERS.
So citizens, educated about the Constitution and all founding documents, are, like capitalist CUSTOMERS, important to the success of both government and capitalism. Capitalist customers seeking to purchase a new, larger flat-screen TV will seek information and reviews, compare specifications and read the guarantees before looking for the best price offered by a half-dozen sources.
If only we would exercise our roles as citizens holding ultimate power over our governors, with the same diligence. Indeed, we know more about our next auto purchase than we do about our next medical procedure, and more about the auto dealer than about the hospital, clinic or medical group that will provide it. Now we think entrusting a government that fails to operate EVEN ITSELF honestly and fairly, with ultimate decisions over our health and life-span, will somehow make sense, albeit in an alternate universe.
It is high time we stop denigrating our innate capitalist sense and teach our children to apply it to every aspect of life in the United States – not least of which is which governor or government we should "buy." Capitalism, as a means of analysis and judgment, holds the key to not only wise use of resources, but also to the wise recruitment of competent managers and governors of our largest enterprise of all.
That government has become nearly an opponent of free-enterprise and the fundamental right to private property and the fruits of one's labors, is demonstrated by the existence of rapidly growing current deficits approaching $20 Trillion. That debt has accumulated, supposedly, by our "representatives," on our behalf. So has the dramatic loss of value of our "dollar," now a mere instrument of confidence. For shame. Capitalists arise!