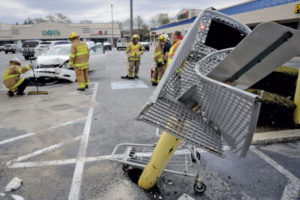 When Rudy Giuliani became mayor of New York in December of 1994, having been a prosecutor, he instituted a policing philosophy that gave importance to "the little things."  These were little things like broken windows, littering, vandalism, petty thefts, truancy and the like.  He'd seen the cumulative degradation that took place in neighborhoods' and even individuals' characters, when small deviations from decency went un-chastised and uncorrected.  The next offense, public or private, singular or neighborhood, would be just a bit worse, and on and on, until the new normal became neighborhoods where good people put themselves in "jail" for safety, while feral criminals held sway "in the streets."
Sanctioning and anticipating the little things produced a big reduction in "big" things.  The city became cleaner as well as safer.  "Stop and frisk" appeared to prevent crimes in the highest-crime areas and more people invested in the city… as in living in the city.  Between the mid-nineties and 2006 the population of Manhattan, alone, increased by some 40,000.  People react to high levels of caring in their neighborhood.  It's a lesson that applies to groups as small as two.
In many smaller cities and towns it's not uncommon to see signs or bumper-stickers that admonish the reader to "Think globally – Act locally."  Oddly, these same places are where little acts of uncaring are common, while commensurate acts of "caring" are made public.  Consider this example:  A woman – and often, sadly, it is a woman  – will finish offloading groceries into her car and then carefully leave the carriage in the open parking space next to hers, or propped on the curb of the island in front of her and other's cars, rather than pushing it 20 or 30 steps to the cart corral provided.  Sometimes they look around to see if anyone is watching, but most often not.
The cart corral became a fixture in store parking lots decades ago when store owners gave up their hopes that customers would return the cart to the store whose owner had provided it for their convenience.  At the same time jobs were created for some fellow to go out into the lot to retrieve the loaned carts that customers were too offended to return.
"Well, hey," you might be thinking, "people are busy and the carts let us buy more stuff in one trip.  It's a small cost for the store to pay for the increased business."  Except it's not a small cost, and uncaring individuals may impose costs on fellow shoppers quite easily with their failure to return the favor of the loan of that cart, particularly when it rolls into a parked car or is hit accidentally when a harried driver thinks he or she can pull into an open space where the cart was carefully parked out of laziness, earlier.
And, let's not overlook the cost every shopper pays to have others "pick up" after them.
But let's compound the costs by recognizing what happens when a woman with children pulls the same stunt.  I know, I know… she can't leave her children alone or apart from herself for more than 3 seconds.  She puts the kids in their car-seats and buckles them in, offloads her groceries and is suddenly incapable of locking her car and placing the loaned cart in the corral, seconds away and in view of her vehicle and its precious cargo.  So, she, in effect, discards the valuable cart the store owner loaned to her, and blithely teaches tomorrow's leaders that convenience trumps courtesy – that the implied contract she made with the store when she accepted the convenient use of the cart does not have to be lived-up-to!  She will wonder how, at age 13 or so, those grown-up munchkins think the world revolves for their edification – including their parents.
Small disturbances yield larger and larger ripples of dismay and, one might recognize, degeneracy.  "Spare the rod and spoil the child."  That quote comes from the 17th century, but refers to Proverbs 13:24, "He who spares the rod hates his son, but he who loves him is careful to discipline him."  Every aware and loving parent grasps the need to make the sanction of bad behavior as close to immediate as possible.  The positive lesson will be learned and remembered.  It is valuable to discomfort yourself a little and return the cart.
There is no sanction as immediate as shame.  Yet, we've decided, educationally, to remove shame as a human guidance system, as it may impact a child's "self esteem," the strengthening of which has become paramount… to society's detriment.  The main vector for building self-esteem is to eliminate shame, which means to eliminate rights and wrongs according to absolute social agreements, be they from shared – or similar – religious philosophy or strict legal constructs.  Relative good and bad, determined by temporary, largely uninformed or misinformed feelings – which is to say popular beliefs, often shifting with political demands and broadcast unfairnesses or, perhaps hatreds derived from both, leaves individuals free to feel and act as they think best, based on popular opinions that spread like wildfire, unfiltered.
The result is a sort of sovereignty without responsibility, where laws may be declared "bad" or "wrong" and no longer binding in this or that case.  This form of freedom shrinks, automatically, as rule upon rule upon rule must be imposed to "protect" the new personal rights devised at the speeds of change exemplified by schools of fish or flocks of birds.
Littering is another example.  Each instance is a small thing.  "What will this matter?" the offender thinks, "Look at the trash in the street… mine makes no difference."  Ah, but it does.  Cigarette butt by gum wrapper by coffee cup, the action of tossing one's inconvenient trash out of the car window or, simply, on the ground, creates a sort of callous over the fine membrane of community fellowship.  Someone who is practiced at trashing his own town or neighborhood is more likely to disregard the laws and mores of where he or she lives, unless it is convenient to follow them.  Many times such people live in a carefully protected and cared-for home, sometimes fenced and gated, making the point that he or she cares about him- or her-self, but not a whit about others.  Society breaks down when such are the inhabitants.
Sometimes the litterer lives amidst trash, caring not about him- or her-self or about anyone else – including children, in those environments.  Their minds may be just as trashy.  Underlying such surface depravity is a hatred for country, community and self, often projected outward as hatred for others.  Such members literally impose costs on their neighbors, yet it costs nothing to respect oneself, one's family and children and one's place of residence.  Discarding one's trash in a proper receptacle is practically free, as is cleaning up one's attitude.
Soon, because a messy living condition breeds hopelessness and resentment, there are numbers of weak-minded people who may be led into hate campaigns against their own country or neighbors.  Society's future and its ability to create happier lives is inversely proportional to the extent of self-inflicted hopelessness.
The two greatest institutions of hopefulness: churches and schools, have been transformed in a generation or two, into irrelevance through socialist philosophizing and, now, virulent atheism.  No longer are religious pillars of right and wrong respected; no longer do government schools reinforce right and wrong – it's all situational ethics, and we're paying the price.
Maybe we're too smart to be bound by religious mumbo jumbo, conscience or shame.  Is it really possible – or likely – that a majority of Americans will pull together to clean up their streets, parks, government and politics, while believing that America deserves to be swept away because it's not perfect?  And whose perfection would that be?