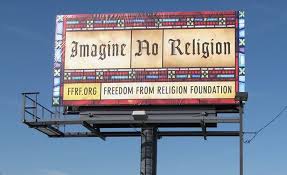 Everyone seems to question religious doctrine these days… "everyone" meaning a large majority of Christians in Europe and the United States and Canada.  We think we have become "too smart" to believe that stuff.  That smartness is like an infection, similar to socialism, where our science, technology and ubiquitous governors (bureaucrats) are creating a much nicer world than "God" supposedly ever did.  The internet, gaming and pornography are meeting most of our needs; WalMart, Kohls and fast-food restaurants handle the rest.
And the rigors of marriage are so last Millennium – let the bureaucrats raise the kids.  I, mean, with pre-kindergarten, pre-school, K–12 and perpetual college, who really needs parents anymore?  The love-making part is OK, but even that's becoming a big hassle; and courtship… forget it.  Hooking up and living together is fun but look at all the divorces.  No, that model doesn't really work for us anymore.  If that's the religious model, then let's pass.  And it's so expensive!  How much more pleasant driving around is.  Besides, my low-emissions hybrid helps to save the planet.
Oddly enough, Muslims are more serious about religion today than almost ever.  And the most serious expression of their most-serious religion is the destruction of Christianity – and of Christians, themselves, of course.  It's as if we were in a race with terrorists to prove the unimportance of Christianity, except we're not winning.  Muslims still want to kill us or convert us.  Jews are just as bad as Christians, in their book, so they are more than happy to kill them, too.  Jews are certainly willing to give up religious seriousness, along with Christians, so why do the Muslims care so much?  It's a worthy question.
As Muslim terrorism has accelerated over the past 50 years there has been a parallel, mostly anti-Christian movement gaining steam in "the West:" atheism.   And this isn't some "live and let live" form of God-less non-religion.  No.  It has become virulent… same infection, different strain.  Atheist don't expend a lot of effort opposing Judaism, Buddhism or Hinduism – mostly they target Christianity.  Christmas makes atheists apoplectic, similar to its effect on Muslims.  Why on Earth do self-proclaimed non-believers – we're talking scarlet-lettered "A" atheists, here, not agnostics or, presumably, not ignorant fools, but serious opponents of Christianity and its slightest mention… why the Hell do they care?
The broad network of atheists concentrate on the awful record of human organizations that operate in the name of doctrines other humans wrote stories about, derived dogma from, and implemented with motivations of personal and institutional power, as well as motivations of financial security.  There are thousands of years of policies and incidents – crimes, in fact – that belie the ostensible teachings of EVERY religious tradition.  Just collating and describing every human error will always yield plenty of material.  Indeed, an entire movement could be, has been, created out of the effort.  But that story is not complete, is it?
Nowhere in the vast network of atheist websites and their aggregation of terrible acts, is there a long list of extraordinary acts of charity by other humans deeply motivated by the overarching story of Christian sacrifice.
If your intention is to catalogue human failings, you will forever be busy.  You may also become blinded to phenomenal beauty, sacrifice, love and greatness.  However, rendering judgments about the existence of "God" based solely upon the much-edited and selected stories in the Old and New Testaments of the Bible, or upon the evolving catechisms of churches, will always be somewhat erroneous.
There are but two places to stand in the debate about the truth of God's existence: He exists or He doesn't.  The rest of arguments on either side are inevitably biased for each advocate's personal advantage, comfort, satisfaction or smug superiority.  Barring personal experience with God, Himself, all of our words are opinion, more or less informed.  Hearsay, we might conclude.  And, in Prudence' view, too fraught with mysteries that may be balanced only with faith.  This in no way denigrates faith.  Faith is the best glue religion provides to cause populations to share codes of morals and conduct.
Prudence tells us that God would not launch our long climb into perfection with a list of mysteries.  It doesn't make sense that He would hold us to standards we cannot understand – there must be a logical structure to God's Law, logic that humans can grasp and apply to our social organization.  Further, it seems reasonable to assume, following God's Law must be good for people and for Life, itself, and, still further, and logically, for God, himself who never, by definition, acts outside of his own "Law," since He is that Law.
So, for those of us who stand on the side of God's reality, admittedly thanks to a measure of faith, there must be a value to God for the creation and existence of humans with the free will to choose between His law and earthly evil.  That is, there must be a BENEFIT to God to go to the trouble of creating humans.
Hinduism provides some insight to the logic of God's existence, through the laws of Karma.  There is a near-universal understanding of what Christianity states as: "As ye sow, so shall ye reap," which is to say: "…so MUST ye reap."  Karma is more complex than that, of course, because of its connection to re-embodiment of the soul.  Western Christianity does its best to suppress the possibility of being truly "born again," but even the Bible includes references to it.  In one view, the New Testament provides the opportunity to return, through karma, to resume self-perfection, arriving after being "judged and found wanting," agreeing to accept the rigors of a life that will provide the opportunities to "balance" what is "wanting" – karma.  Only by cleaning up all of our negative acts in whatever lifetime, can we achieve acceptance into "heaven," if that is our goal.  Whether we call it Nirvana or Heaven, or some other, mankind generally believes in rewards in an afterlife for good living in this life.  Is there a logic to this?
There is if God also benefits.  What if – just consider – that God's Law that tells mankind to "go forth and multiply," applies equally to Him.  He is the Law, by definition, so of course it does.  In other words, individual perfection is logical if God is ENHANCED by humans' choices to adhere to His Law and not succumb to the comforts of evil.  In other, other words, God becomes happier when his "children" do right.
Oh, that's impossible, you might say.  God is all there is.  But, then, who are we to limit Him… if we are standing on His side, after all?  After all, you get to keep only what you give away!  In those other words, it is only the ACTION of charity – or of following the Law – that stays with your soul.  The other side of that is that an evil action must be balanced in order for your soul to progress into "Heaven."  It's very logical.
And, it's not a mystery.  There is a value and purpose to being "good" and not "evil."  Part of the value is that society and civilization, itself, holds together through the application of shared morals.  Society functioning, strengthening families and children, educating them and protecting them, is a value.  Only in strong societies do people have the opportunities to worship and, one hopes, to learn greater aspects of the Law.  No mystery there.
Atheists perform an important function.  They continuously expose our flaws, particularly  human failures in the guise of religion.  And well they should.  They may be blind to some things, but they're searchlight-clear on crucial others.  If they can recognize, as Karma describes, that life is a series of tests and that earth is the testing place, then they might accept that belief in God is a test and that disbelief is also a test.  It really doesn't serve anyone to attempt to determine whether others are passing or "failing" a test, only whether we, ourselves are passing.  If belief in God generates hatred and death, it is reasonable to think that a test is being failed.  Likewise, if disbelief generates hatred or worse, that is also evidence of a failure to pass.
Every event, whether we deem it good or bad, is an opportunity to choose good or evil.  One can stand in judgment of God if he or she wishes, and say that this or that earthquake, flood or disease is an indictment of God, but what is the value of that except to sow hatred?  If God were to place us all in nurseries so that we would be perpetually comfy and fed, free of disease – free of choices, in effect, what value would humans have?  There would be no growth, no strength, no ability to make ourselves more perfect.
If there were no standards to meet or tests to pass, life would be useless; there'd be no horizon, no mountains to climb, no wonder to fulfill by finding out.  No, you non-believers, that there are tests is not proof there is no God but, rather, that there is.
It is our response to the test that we can take with us, not our comfort.  Still, you should keep on holding up your mirror, reflecting back at us our flaws and errors in God's name.  The original question, though, remains.  Why do opposing religions, best exemplified by Muslims in opposition to every other belief structure including atheism, become so hateful toward others?  What do they care?  I think the only care great enough is that their chosen enemies may be right.